HOME >
About Company >
Overview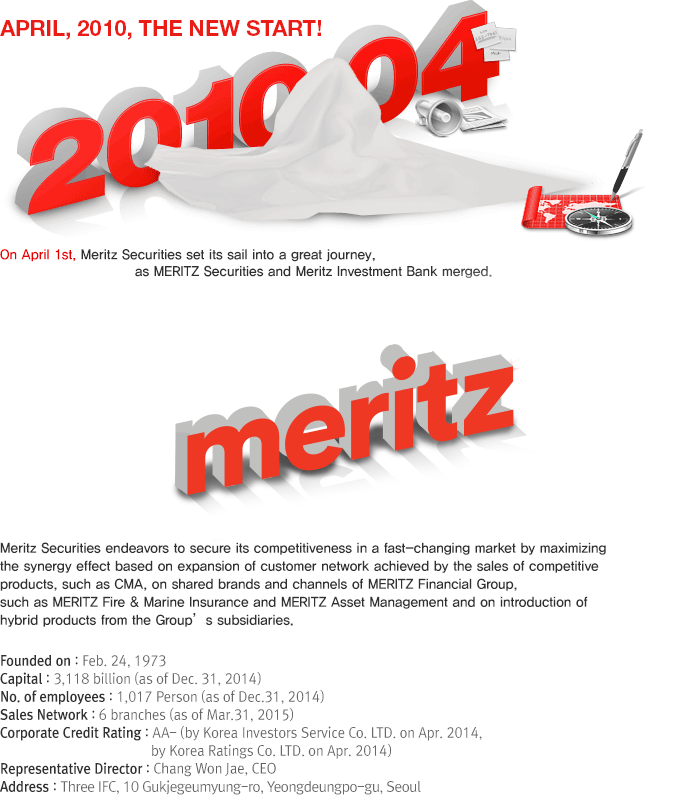 APRIL, 2010, THE NEW START!
On April 1st, Meritz Securities set its sail into a great journey, as MERITZ Securities and Meritz Investment Bank merged.
Meritz Securities, Meritz Investment Bank
Meritz Securities endeavors to secure its competitiveness in a fast-changing market by maximizing the synergy effect based on expansion of customer network achieved by the sales of competitive products, such as CMA, on shared brands and channels of MERITZ Financial Group, such as MERITZ Fire & Marine Insurance and MERITZ Asset Management and on introduction of hybrid products from the Group's subsidiaries.
Founded on : Feb. 24, 1973
Capital : 3,118 (as of Dec. 31, 2014)
No. of employees : 1,017 Person (as of Dec. 31, 2014)
Sales Network : 6 branches(as of Mar. 31, 2015)
Corporate Credit Rating : AA- (by Korea Investors Service Co. Ltd. on Apr. 2014, by Korea Rationgs Co. LTD. on Apr.2014)
Representative Director : Alexander Heemoon Choi, CEO
Address : 15 Gukjegeumyung-ro 6-gil, , Yeongdeungpo-gu, Seoul